HEARTS AND HANDS MINISTRY
Our logo exemplifies our mission. We are a ministry that has a heart to serve and willing hands to help.  We serve our Church Family in many ways–from decorating the church, to supporting missions, to outreach.  When we gather together at our meetings, it is a wonderful time of fellowship, prayer, and fun!
So….if you have a heart to serve and willing hands to help, come join us!!
APS Giving Tree
Each Christmas, Grace PCA seeks to encourage the children of clients of Akron Pregnancy Services through our APS Giving Tree.  Grace members and visitors are asked to model God's greatest Gift to these children, bringing them the spirit of Christmas.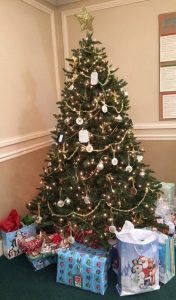 APS Virtual Walk 2020
APS Walk for Life 2021
Grace Church participated in the  2021 Akron Pregnancy Services "Walk for Life" on Saturday, May 15. Diana Samblanet, Sharon Tebbano, and Judy Carroll were the walkers from Grace Church.  The building in the background is "The Robinson House" (future home of APS/Eva Women's Clinic).
Akron Pregnancy Services Project